Navigating the Care of Your Aging Loved One: A Navi-Aging Guide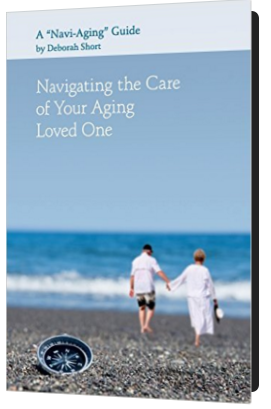 Family members often need guidance to successfully navigate the issues involved with caring for an aging loved one. When a loved one needs care, there are medical, financial and legal issues to deal with. Families in California may be able to access the Medi-Cal benefit, provided they meet the application guidelines. "Navigating the Care of Your Aging Loved One" offers guidance and strategies that will be of particular help to family members who have become caregivers for their aging family members.
Deborah Short, founder of Planning for Seniors, LLC wrote this book to help California families enjoy peace of mind when they are faced with taking care of their aging loved one. Whether a full-time caregiver, or an advocate for a family member, this book provides guidance and insight into handling the various challenges that are faced by our aging community, and those who love them.
Purchase a paperback copy of "Navigating the Care of Your Aging Loved One" on Amazon for $11.95; or you may download the book to your computer for $9.97 by selecting one of the options below.
If you choose to download the book, you will be forwarded to a PayPal interface where you can pay with any major credit card. AFTER you make your payment, PayPal will automatically forward you to the download of the book — so DO NOT close your web page or browser after you make your payment on PayPal.